Portable Profile Testers from Donner + Pfister AG
We are pleased and proud to inform you that Prime Technologies has partnered with Donner + Pfisteras Business partner forPortable Profile Testers.
Under the partnership Prime Technologies will market & Support D+P products in India.
Thus Indian customers i.e. OEM manufacturer, Vendors, Distributors, Now have an excellent opportunity to upgrade their inspection facilities with world renowned D+P products.
The new portable profile measuring instrument ES4300 offers an extremely exact method of measurement.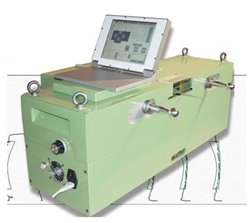 One Stop solutions for Mobile Profile

» Measurement of Gears
» Easy mode
» Interactive touch panel
» Module 3- 55 mm
» VDI Group I
» The quality level of the gear teeth is easily determined by theevaluation software to ISO, DIN or AGMA standards.
» The result of the measurement is displayed immediately by the apparatus itself, and stored.
» Can be used in many production locations. Possible to integrate with Production machine.
» Measurements are stored automatically in the instrument and can be recalled via the part numbers identifications.
» The records are printed out via wireless printer or via Memorystick.
» The measurements can be stored and printed out on an external PC in the form of PDF file.
» Profile Parameters : Fα, ffα, fHα, fHαm, Cα